Miller's Business Affiliations
Miller's Supplies at Work, has aligned itself with the leading affiliates in the office supply industry. These affiliations allow us to do business internationally, hold government contracts and provide great buying power so we can offer you low prices.
Miller's has affiliated with the following organizations:
TriMega Purchasing Association

TriMega is a non-profit cooperative that uses the combined buying power of its 525 independent office products dealers to lower the costs of office products, office furniture and computer supplies to both its members and their customers.
Point Nationwide

Point Nationwide is one of the largest buyers of office products in America, with over $2 billion dollars a year in purchasing power. With a Microsoft-based, state-of-the-art ERP system, we provide scalable and customizable reporting, billing, and delivery solutions to national accounts.
AOPD (American Office Products Distributors)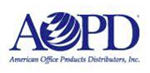 AOPD is the world's largest network distributor of office products. AOPD has grown to include locations throughout the United States and Puerto Rico, as well as Canada, Australia and New Zealand, and currently services thousands of customer locations.
NOPA (Formerly the National Office Products Alliance)

NOPA delivers leading edge government advocacy, dealer performance benchmarking services and online business resources and tools, as well as leadership for standards development and other industry initiatives.