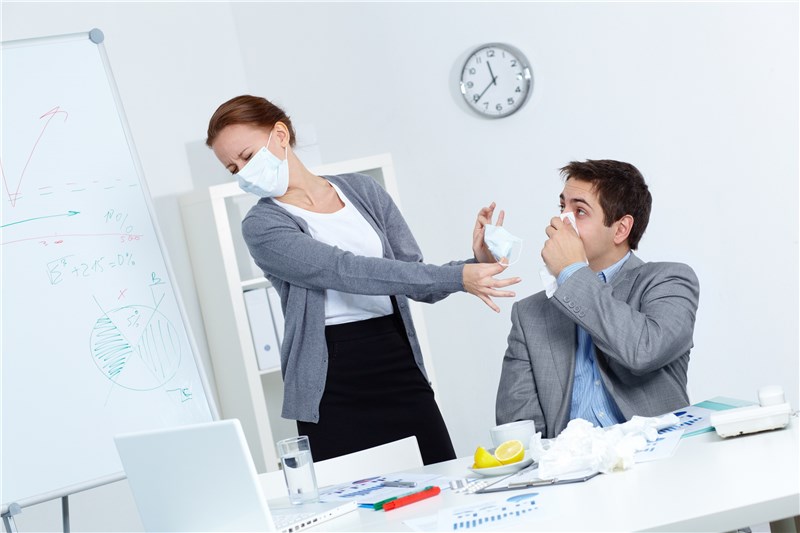 Flu season is quickly approaching.
Each year, the epidemic sweeps the land and before you know it, people start calling in sick. Your office could be empty for a few weeks if the virus isn't contained.
As an office supply company, we understand how vital it is to keep your office clean this time of year. Here are some simple steps you can take to help maintain a clean and healthy workplace:
Clean Handles Regularly-

Door handles, facet handles, microwave door handles are all germ magnets. Keep these areas as clean as possible to avoid spreading germs.

Workspace-

Have each employee keep sanitizing wipes at their desk and encourage them to clean their area frequently. Keyboards, phones, and other frequently used items should be cleaned at least once a week, especially if you or a neighbor have been sick.

Stock Up-

Now is the perfect time to stock up on those cold essentials. Make sure you have enough tissues, disinfectant, hand sanitizer, and even juices with a lot of vitamin C. All of these items can help ease to blow of flu season.
At Miller's Supplies at Work, we offer a wide variety of cleaning materials to meet all of your office cleaning needs. Keep your office healthy with the right cleaning supplies. We have a wide variety of cleaning products including green cleaners and sustainable cleaning supplies. Don't wait until your office is overrun with germs; visit our website and get a catalog today!