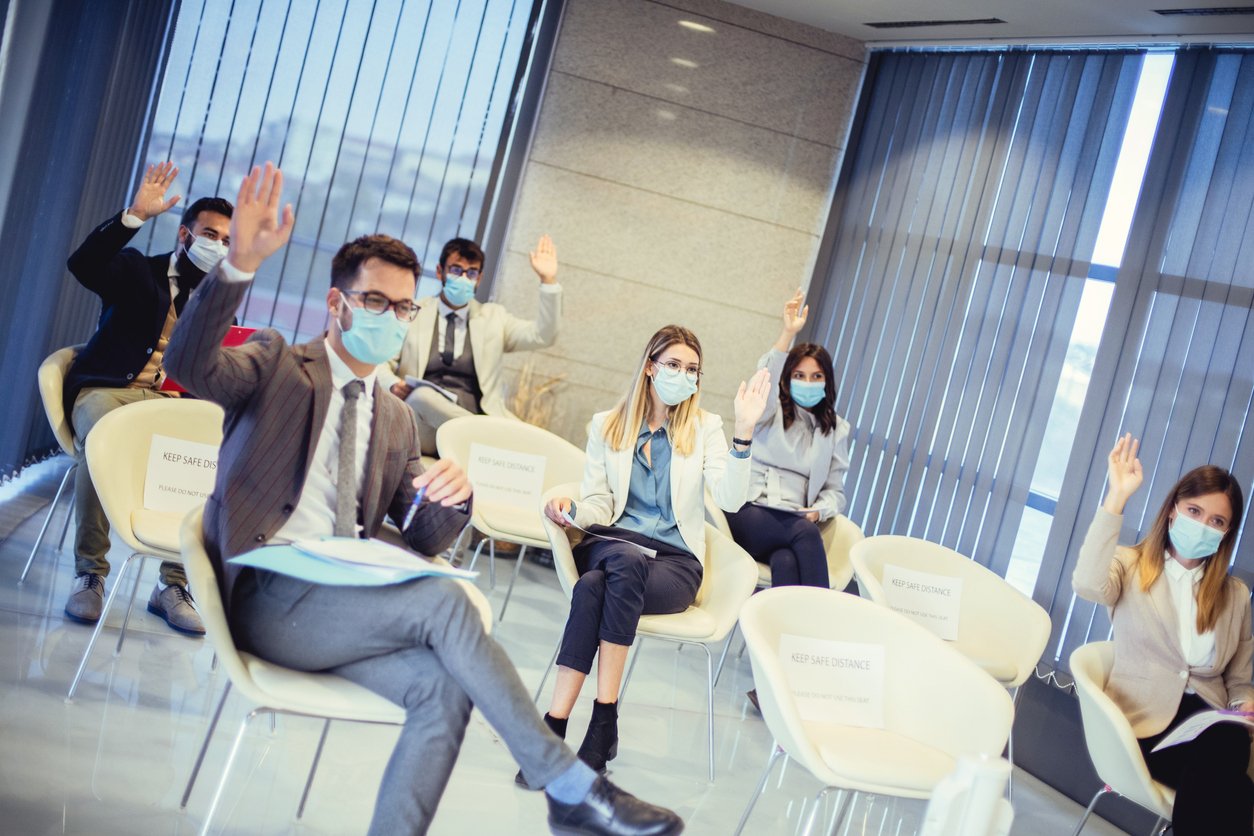 Reopening a business during the pandemic can be a daunting process requiring serious consideration for how workers can be brought back safely, how potential customer concerns will be addressed, and how business will resume in a way that allows the company to survive financially. To create a comprehensive reopening plan, consider these four imperatives.
REEXAMINE OPEN FLOOR PLANS
: Find ways to break up office space and keep people apart
Workstations and desks will need to maintain the proper distance, along with separation barriers like Plexiglas shields and partitions. Enforcing safer distances can be supported by controlling building entry points, reconfiguring lobby areas for social distancing, communicating building protocols through signage, and providing sanitizer and PPE as appropriate.
REVIEW COMMON AREAS
: Signage will play an important role to communicate building safety measures
Signage will advise and remind staff and visitors of new safety measures. Other precautions that employers may want to take in common areas include providing hand-washing facilities, offering hand sanitizers when regular facilities are not available, and removing magazines and newspapers from reception areas and common rooms.
RECONSIDER A HANDS-OFF APPROACH
: Touch-free is the new black, from faucets and hand dryers to self-flushing toilets, to reduce the opportunity for disease transmission
Forget about sealing a deal with a handshake or patting a colleague on the back. With social distancing, touch-free will be the order of the day throughout the workplace. That includes touch-free faucets, touchless towel dispensers, automatic-flush toilets, and touchless hand-sanitizing stations.
RECOMMIT TO CLEANLINESS
: Maintaining cleanliness is essential, including increasing the frequency and thoroughness of sanitizing measures
The Centers for Disease Control and Prevention (CDC) offers significant guidance for cleaning and disinfecting facilities. Those recommendations include routine cleaning of frequently touched surfaces, putting wipeable covers over electronics when possible, and using soap and water first to clean, and then using a disinfectant.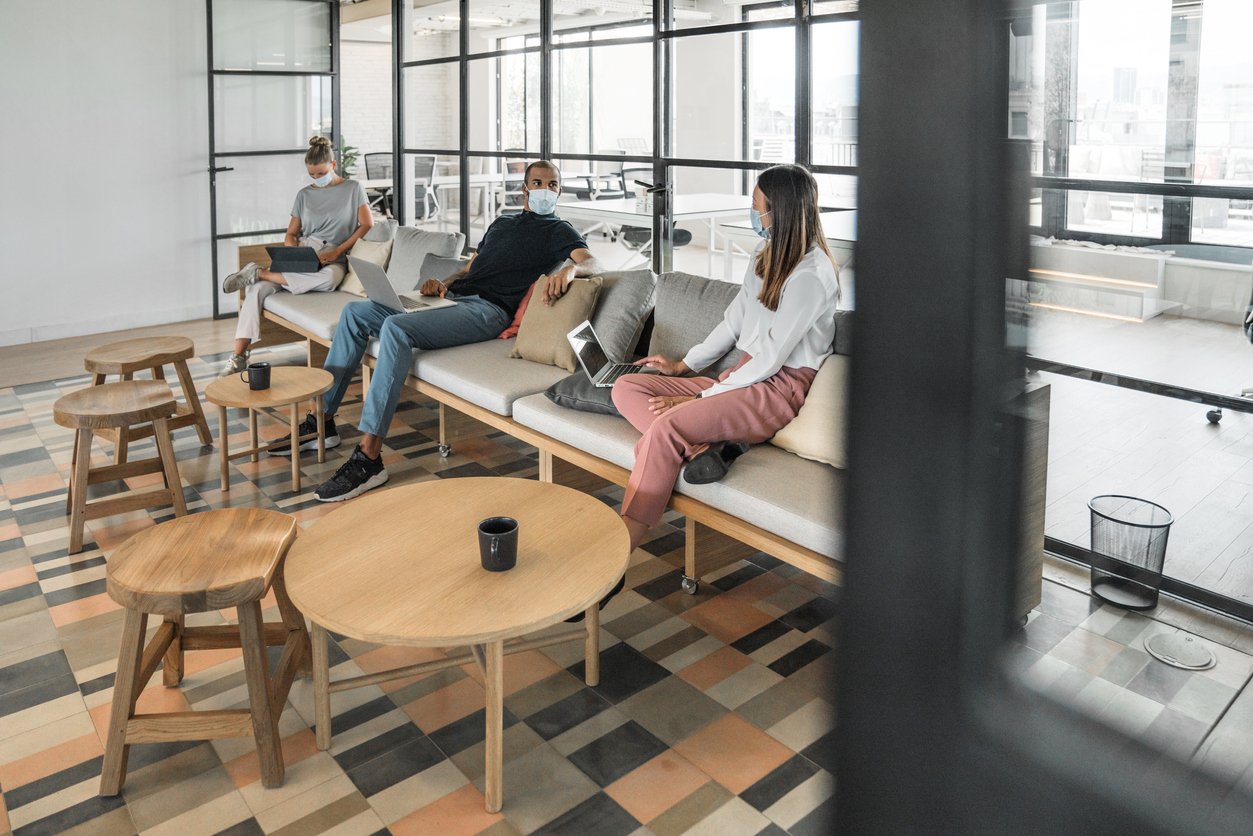 How COVID-19 is Transforming Workspaces
Keeping a sense of community while also creating the separation that people will need to feel safe is a guiding transformation principle that will rely on technology, safety protocols and hygienic materials.
Near-term Implications
Adding sanitation stations and signage
Marking off social distancing lines
Installing dividers between workstations
Decreasing shared spaces as well as conference room capacities
Increasing the height of workstation dividers
Turning workstations that face each other
Reducing the number of chairs and spacing out tables in common areas like breakrooms
Longer-term Considerations
Replacing soft fabric upholstery with wipeable materials and adopting hard surfaces where possible
Improving air circulation systems with an emphasis on fresh air intake and enhanced filtration
Reconfiguring wider hallways and larger bathrooms and kitchen spaces
Installing automatic doors, faucets and hand dryers to reduce shared surface touch points
Investing in UV lighting to disinfect offices overnight
Utilizing voice command technology in place of push-button operations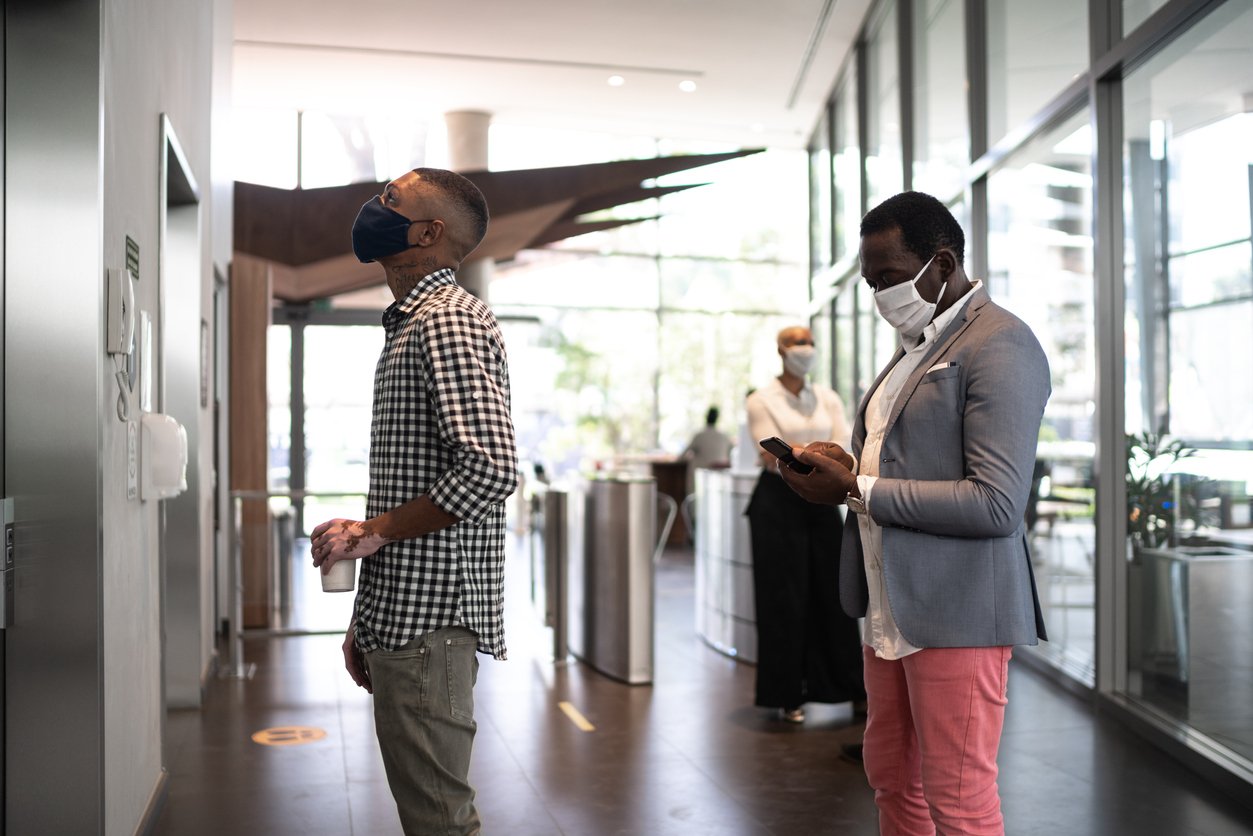 Additional Points of Consideration
Each business will have unique issues to address based on the needs of their employees, the demands of their customers and industry-specific norms. These include protecting employees against risks associated with third-parties entering the workspace, daily health checks for everyone entering the workplace, manipulating work schedules to reduce crowding, and managing common areas like elevators and break rooms.
How to Get Started
Miller's has solutions for your workspace, PPE for your people, cleaning and sanitizing solutions for your facility and more. Our experienced team can work with you on all areas of your facility and share the latest innovations, products and solutions. We can help you prepare the work place for a clean, safe and effective return for your employees. Set up a consultation today.
=============================================
Resources
"Before and After: How the Workplace Is Changing." NFIB, 15 Oct. 2020, www.nfib.com/content/resources/coronavirus/before-and-after-how-the-workplace-is-changing/.
"Cleaning and Disinfecting Public Spaces for COVID-19." Centers for Disease Control and Prevention, Centers for Disease Control and Prevention, 22 July 2020, www.cdc.gov/coronavirus/2019-ncov/community/clean-disinfect/index.html.
Gutterman, Alan S. "Protecting Workers When Reopening Small Businesses in the COVID-19 Pandemic." Business Law Today from ABA, Business Law Today, 8 Oct. 2020, www.businesslawtoday.org/2020/10/protecting-workers-reopening-small-businesses-covid-19-pandemic/.
"The Transformation of Workspaces Post COVID-19." MRA, 4 Mar. 2021, www.mranet.org/resource/transformation-workspaces-post-covid-19.