It's a jolly time of the year! The holidays bring cheer to offices with holiday parties, gift exchanges and more. This year, spread the love with useful gifts for your office gift exchange. If you're still thinking about a gift to bring, these 5 themed gift package ideas may help. Choose gifts that help prepare your colleagues for a healthy and safe winter.
1) Gift Package for Facilities Managers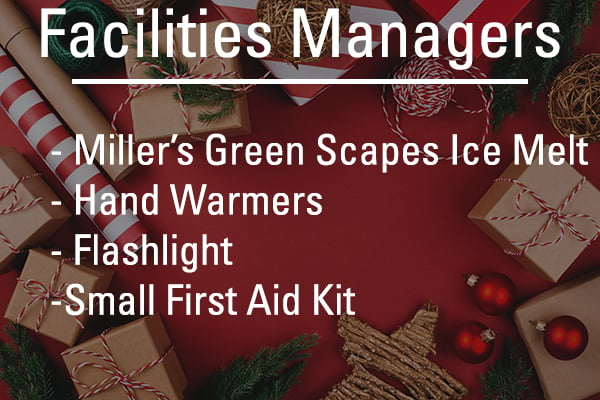 Did you pick the facilities manager's name from the Secret Santa hat this year? If so, then keep in mind that a facilities manager could use a variety of helpful items based on what they do daily. This package includes a few items that will keep themselves, office workers and visitors safe. A gift package for your facilities manager could include, gloves, Miller's Green Scapes Ice Melt, hand warmers, flashlight and a small first aid kit.
2) Gift Package for Teachers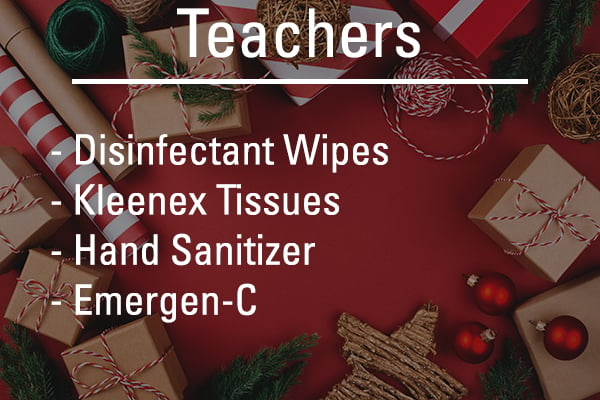 Any teacher may be grateful for this package of relief that prevents the spread of cold and flu in their workspace. Teachers may come in contact with dozens of students on a daily basis that can bring sniffles and germs unintentionally. A gift package for a teacher could include disinfectant wipes, kleenex tissues, hand sanitizer, emergen-c and disinfectant spray.
3) Gift Package for Any Coworker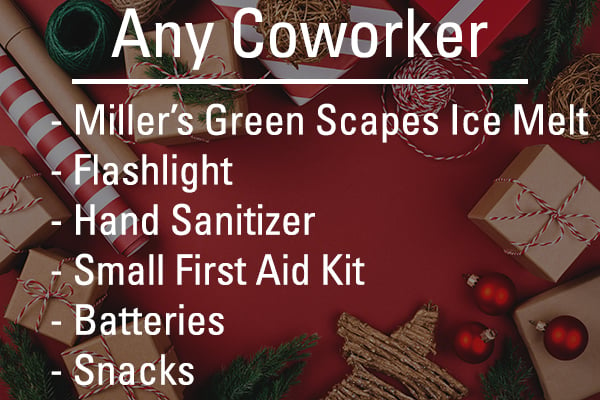 Do most people at your workplace drive to work? If so, it may be helpful to give them a vehicle winter preparation kit. Winter brings a chance of snow and keeping a preparation kit in your car is a safe precautionary action in case of breakdowns during winter. This gift package could include Miller's Green Scapes Ice Melt, a flashlight, hand sanitizer, a small first aid kit, batteries and snacks.
4) Gift Package for Office Managers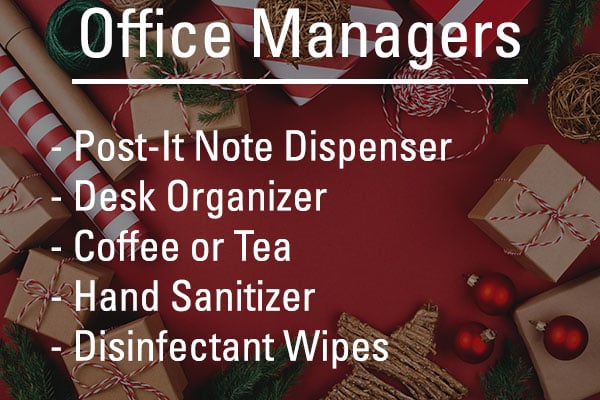 Your office manager may spend a lot of time planning the holiday party or gift exchange this year. While they are hard at work, they may appreciate gifts to help them stay organized and energized. Give your office manager helpful gifts that prepare them for a busy time of the year, as well as items to keep their workplace safe. This gift package could include a post-it note dispenser, desk organizer, coffee or tea, hand sanitizer and disinfectant wipes.
5) Gift Package for Executives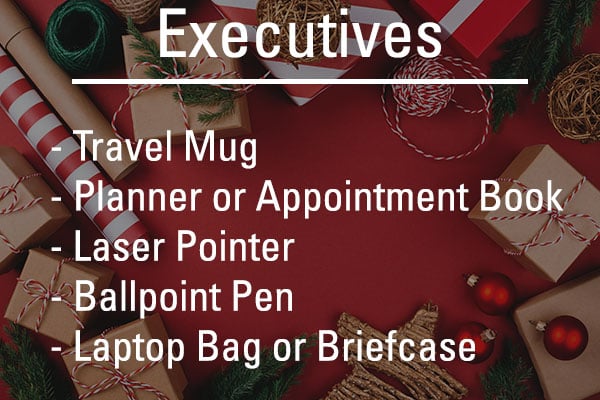 The pressure of choosing the right gift for an executive in your office can be stressful. Keep in mind executives are busy and on the go, with meetings, lunches and end of year deadlines. Here are a few ideas that can save you some time and impress your executive. This gift package could include a travel mug, 2019 planner or appointment book, an executive laser pointer, a fancy ballpoint pen and a laptop bag or brief case.
Themed gift packages can be easy and fun. Don't forget the ribbon and a bow to decorate the gift package and make it festive. The person receiving the gift may appreciate the extra thought, and consideration put into finding items that can be useful. Do you want to win an item for your office gift exchange? Please join us on social media for "12 Days of Giveaways" and you could win a gift for yourself, a friend or a coworker.
What is the best gift you received from a coworker? Please share in the comments below.