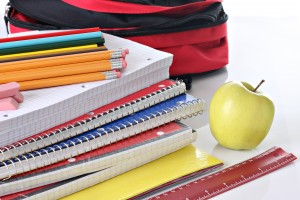 Its happening: the heat is fading and the days are getting shorter. Summer is coming to a close just in time for schools to open up again. We're in the final stretch, people – get ready for the morning hustle and bustle.
Weekday mornings are always a hectic time, especially if you're a parent. You have to remember a lot: lunches, homework, snacks, permission slips – because if you don't, who will? Not your kids (that's for sure).
Do yourself a favor. Lighten the load a little bit. Take these tips into consideration (you can thank us later):
First & Foremost: DECLUTTER.
Kids grow up quick. New clothes, toys and interests come with time, which is great, just don't let all the old stuff add up! Make sure to throw away or, better yet, donate your child's old belongings. Make sure their room is clean every night before they go to bed. This will make the mornings that much easier to maneuver around.
Plan Ahead. Save Money.
In case you didn't already know, back-to-school sales start early – like, July early. So if you haven't started shopping for supplies and clothes yet, you're not doing yourself any favors.
Examine your child's wardrobe. Look in their pencil box. Call the school and ask them to email the supplies list early. A careful assessment of what your kid really needs will make it 1) easier to find and, thus, less stressful and 2) cheaper.
Did we mention it's going to be cheaper?
Centralize School Items.
For example, pick a spot near the door where everything your child needs will be placed, ready and waiting for him or her. Backpacks, lunches, umbrellas, homework, coats and shoes, show-and-tell items – everything – should go in this spot. This way you're not running around, sweating, and looking for that pencil case.
Remember: Triple-C
Cool, calm and collected. That's what you want to be in the morning, because a hectic AM can really mess the whole day up.
Avoid a mess by preparing as much as you can early on. For example, set out breakfast dishes and layout clothing. Make lunches. Collect homework. If your kids are older, they can probably take responsibility for these and other similar tasks. However, if they fail to do so, make sure there are consequences for their actions.
---
For more helpful back-to-school tips, call us at Miller's office products and don't hesitate to stop by for all your office supplies and, of course, school supplies. We carry just about anything you or your child needs to be successful! Come see us today!