The Word from NeoCon
NeoCon 2023, the renowned annual trade event held in Chicago, wrapped up last month. This event is the premier showcase for commercial furniture design and interior trends. Manufacturers bring new products to market and unveil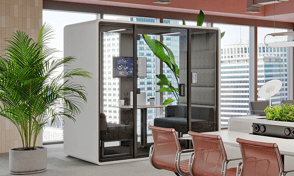 their latest innovations. This is the first of a three-part blog series about trends in business interiors. This first post covers the hot topics and pervasive trends coming out of this year's event. The next blogs in this series will feature new and exciting products we love.
Here are the key topics on everyone's mind:
Flow and adaptability: The ability to create workspaces that adapt to changing needs and flow with the changing way we work continues to be a focal point for commercial interiors. Designers and representatives from top manufacturers are finding flexible and functional ways to suit a diversity of needs, work style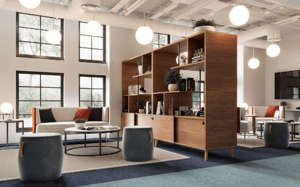 s, and people. There is more focus on making furniture and configurations adaptable to support a changing workplace and to accommodate how individuals choose to work within their space.
Inclusive reconfiguration: Furthering this theme of adaptability, inclusive reconfiguration is more and more prevalent in office furniture and system design. Sit-to-stand desks were just the first iteration of this idea. Now furniture is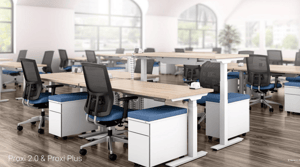 designed to make spaces and tables more configurable for different needs including wheelchair users. Providing solutions to accommodate a diversely sized and able workforce is not only possible but essential today. And as organizations evaluate Diversity, Equity, and Inclusion (DEI) initiatives, thoughtful space design and inclusive furniture can be a meaningful, tangible way to deliver on those commitments.
Comfort and style: Coziness and comfort were big themes in design this year.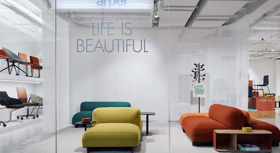 Soft, rounded furniture styles and comfortable seating abounded. This reflected a move to provide a warm, welcoming atmosphere designed to attract people into your spaces, make them comfortable, and keep them coming back.
Acoustics: The focus on adaptability and mobility throughout the office brings a need to also address the accompanying issues of noise and sound. Acoustics is considered in more aspects of design. From laminates that provide sound barriers to fabrics that buffer noise to dual-purpose privacy panels, everyone is looking at sound mitigation. Privacy desk screens are becoming more prevalent as an easy add-on to many desking solutions.
Mobile power sources: With the adaptability and expandability of systems and spaces comes the need to improve acoustics and mobilize power sources. As you make furniture and desking more flexible, so comes the need to make it easy to power your work devices. More furniture designers are integrating these needs into desking and benching systems as well as tables. Wireless charging options with integrated USB charging are becoming the norm in many new furniture systems.
Sustainability and the Life Cycle of Furniture: Today, designers and manufacturers are putting the lifecycle of furniture at the forefront. Responsible material sourcing and life cycle planning for furniture is a big focus with more sustainable options in the market.
Amped-up Color, Artisanal Elements, and Bespoke Touches: The need to make a space unique prevailed throughout. Bright colors abounded for the right use. And when full-on bright is not right, bold touches of vibrant color can bring a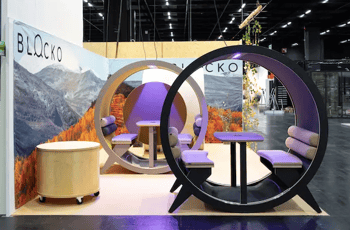 whole new perspective to a lobby or lounge space. There was also expanded use of artisanal elements from the artwork to bespoke or man-made tables, lamps, or other touches. There were so many ways to bring a unique flavor and spark to a commercial space.
This is a wrap-up of the key themes launched at NeoCon. The largest industry event provides an opportunity for top furniture manufacturers to share their latest innovations and launch new products. Over the next weeks, we will be showcasing the new products we are most excited about from the manufacturers we represent and how they may work for you.
Want to discuss new approaches with your space design? Contact our team today.
Need some inspiration? Mark your calendar for our next showroom open house, on September 20, 2023. Click here to RSVP today
###