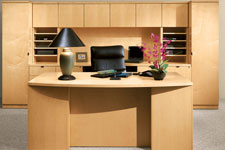 Is your office in need of a change? Are you looking to update the atmosphere and style of your business? Miller's Office Products offers a full line of office furniture to choose from to customize your office to your liking. We offer a large selection of furniture that is in-stock and available for delivery within 1-3 business days. We also offer the opportunity to view and try out office furniture before you buy at one of our three showrooms. Ergonomic Furniture – With most people spending over 40 hours at their desk a week, you need to be comfortable. Having comfortable furniture not only helps with productivity, but it improves overall health. Miller's Office Products offers a full line of ergonomic furniture that will keep you comfortable during those long work days. Some of the few benefits ergonomic furniture can provide includes:
Reduced back pain
Reduced fatigue and discomfort
Reduced risk of injury
Increased blood flow
Increased productivity
Office Chairs – Most everyone enjoys a new office chair. Having a comfortable chair is one of the best ways to help boost productivity and creativity at the workplace. Miller's Office Products offers a full line of office chairs including: Multi-Use Office Chairs, Task Chairs, Conference Room Chairs, Executive Office Chairs, and Meeting Room Chairs. Demo Chair Program – When you buy a new car, you probably test drive it to make sure it is the perfect fit. Purchasing an office chair should be no different. Miller's Office Products offers a Demo Chair Program that will allow you to select a couple chairs to try out before you make your purchase. Visit our website to get started! Office Desks – Selecting the perfect desk for you office has never been easier when working with Miller's Office Products. We have a knowledgeable and friendly staff that will help you select the right desk based on the type of office space you have including:
Private Offices
Cubicle Workspace
Open Workspace
Home Offices
Office Cubicles – Miller's Office Products can provide a wide array of office cubicles for your office. Customize your office space and select cubicles that match your style and atmosphere of your business. Interior Design and Space Planning - Miller's interior designers can help with everything from office furniture and carpet to lighting and cabling. If you choose we can also manage your entire project including installation. Come check out one of three showrooms in Washington D.C. to get a feel for all of the products we offer. If you are interested in purchasing office products for your business, feel free to contact us at (703) 291-0451 or visit our website and request more information about our products!