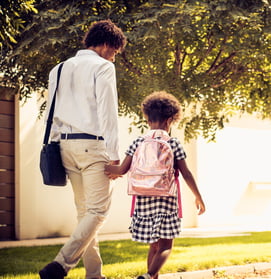 It's back to school time – and that brings with it a roller coaster of feelings. From the excitement of a fresh start to the sad reality that summer is truly over. Kids, parents – everyone really – is heading back to busier schedules and new daily routines.
You can make this seasonal shift work in your favor by carrying a positive back-to-school attitude into your work life with these 7 simple ideas.
1. TURN YOUR ENTRYWAY INTO YOUR COMMAND CENTER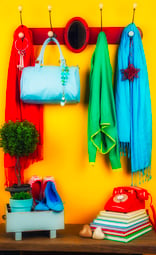 Create a space for leaving and entering your home that stores essentials, like a briefcase, keys, wallet, coats, sunglasses, umbrella and phone. Anything you would never leave the house without should be within reach as you head out the door. Having these items at the ready as you leave will make your mornings less hectic.
Side Benefit: Having a system in place for storage will discourage clutter and mess. Everything can be in its place the moment you step through the door after a long day at work – and you won't have to think about it again.
2. PLAN A WEEK'S WORTH OF WORK OUTFITS
Nothing wastes time like trying to figure out what you're going to wear to work that day. Save precious time each morning by planning out your wardrobe in advance for the week ahead.
On Sunday evening, select what you're going to wear for that important Monday meeting with your boss, Tuesday's team lunch, the client event on Wednesday, and so forth. Designate a portion of your closet space to place your Monday to Friday outfits, including shoes, belts, and accessories.
3. FIND A NEW MENTOR, OR BECOME ONE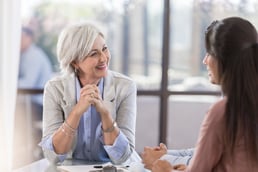 Remember that teacher who inspired you to see the world differently? Spending time with a trusted mentor – at or outside of work – can spark a new beginning and open you up to new possibilities.
Already know it all? Then become a mentor to someone else and give back to your profession. Studies show that there are lifelong benefits of mentoring for both the mentor and the mentee.
4. CRAFT A HEALTHIER FOOD PLAN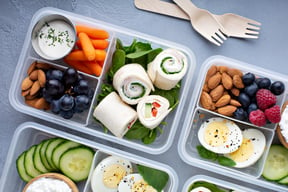 Relying on fast food or junk food may seem easy, but it also gets expensive and leads to poorer eating habits. You can break that bad cycle by preparing for lunch at the office and for those oh-so-crucial afternoon snacks to get you through the end of the workday.
Cook once on the weekend and eat three times (or more) during the week. Simply batch-cook a few basic components and you can get an entire week's worth of lunches with minimal time and effort. For menu ideas and inspiration, check out Real Simple's Sunday Prep School feature.
If you're one of the about 67% of office workers who eat lunch at their desk every day, stop it! Pick up your bento box or brown bag and head to your company's break room. Socializing over a lunch break gives you an opportunity to build stronger relationships with co-workers.
Not sold yet? Check out these 5 reasons you need to stop eating lunch at your desk.
Don't forget to stock up your snack drawer with healthier options, like nuts and granola, to ward off the mid-afternoon munchies.
5. CARPE DIEM, WITH COLOR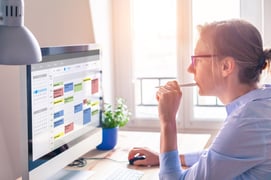 Seize back control of your work schedule. For the most part, you get to decide when to respond to non-urgent emails or voice mail messages.
Use time blocking, or calendar blocking, to arrange your tasks into the hours of the day where it's most productive for you. Time blocking lets your design your days proactively, rather than being reactive to the demands of others.
A Quick Visual Cue: Use a color code, like BLUE for responding to messages or ORANGE to tackle priority projects, when blocking out time in your daily work schedule.
6. RECONNECT WITH COLLEAGUES IN A NEW WAY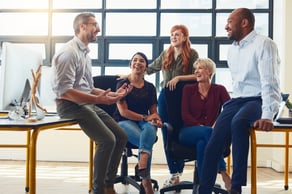 Remember the campus meet-and-greets for incoming freshmen? You got to meet your new classmates, teachers, and campus VIPs. Apply that curiosity and make it your job to reconnect with different departments within your office to learn how the company works from someone else's point of view.
You'll gain new insights, build stronger working relationships and even likely become better at your own job – all because you understand the bigger picture at work that much better.
7. BE YOUR OWN CHEERLEADER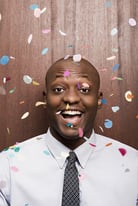 Celebrate your successes at work (big and small). At the end of each workday, take a moment to review what you accomplished. Honestly assess where you could have done better, and then make that effort to be better the next time. That moment of reflection will allow you to go to bed with a feeling of accomplishment and allow you to focus on where you can improve tomorrow.
Back to School Doesn't Mean Back to the Same Daily Grind
Whether or not you have school-aged kids, you can choose to use this seasonal transition back to school as an opportunity to refocus on your work goals, re-energize your career outlook, and reimagine your daily routine.