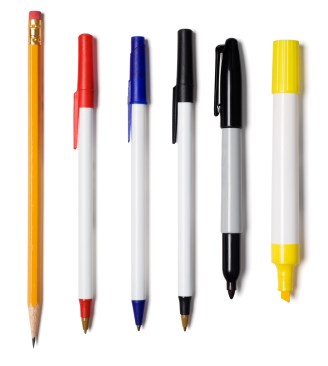 When you are stocking up pens for the office, what kind do you get?
Many people order only boxes of black pens with the occasional blue and red box of pens. Those other colors of pens aren't just for when you were twelve, they are incredibly useful in the work place.
Colored pens are very effective for organization and memory retention. Studies have shown that there are several different ways you can use color to improve your performance.
It helps you remember what everyone said and who said it. Writing down notes based off of who said what is a great way to keep track of different segments of a meeting. If you are meeting with co-workers and a client, this gives you a clear idea of what you need to do and what you can expect to receive from the others.
In addition to remembering what was talked about, you can also flush out your ideas more. They will help you map out your ideas so you know all the steps you need to take for your project.
Not only will you be able to be more organized but you will also remember the details of your meetings better. By taking detailed notes of your meetings you will also be able to remember the events of the meeting.
Next time you're ordering office supplies, be sure to grab a couple boxes of colored pens and be sure to contact us at Miller's Supplies at Work. Contact us today to see how we can help improve your office!