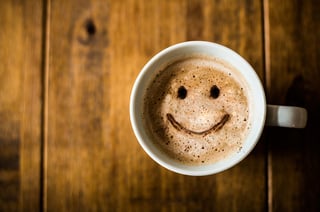 Every business office has a list of "must haves" for creating an efficient, productive work environment. While paperclips, staples, and reams of paper are all essential to have stocked in your office, you're forgetting one of the most important items — coffee!
Having quality coffee on hand is as essential as any other supply for many offices, but it's no secret that burnt, bitter coffee in the office is more common than a satisfying cup of joe. At Miller's Supplies at Work, we believe that fresh, delicious coffee shouldn't be hard to come by when you arrive bright and early to work on a Monday morning, and we offer premier coffee delivery service throughout the Washington, DC area to make that happen.
Our innovative coffee & beverage service takes all the guesswork out of keeping quality coffee in the workplace, freeing up more time for you to get back to business. With our free trial offer, you can even taste the difference of our beverages before you commit to delivery service!
Get the Best Coffee Delivery Services From the Best in Town
Whatever your tastes may be, Miller's Supplies at Work offers an impressive selection of coffee, teas, and other products to suit the needs of your business, including:
Products from brands such as Keurig, Green Mountain, and Starbucks
Whether you use convenient Keurig brewers or a standard coffee maker, we offer more than just quality coffee options to wake up your office crew. We also have a team of expert service technicians on staff that can work with you to keep your equipment in a clean and functional state!
You have enough to think about when managing the day-to-day operations of your office, and Miller's Supplies at Work can ensure that at least one staple of your business is always in ready supply. If you'd like to learn more about the products and coffee delivery service we offer, we'd love to talk more with you about your needs. Give us a call today to get started, or submit our online form to schedule your free coffee trial!