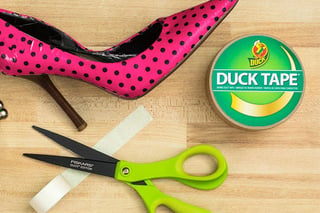 Girls spend years dreaming of their prom. The glittering lights. The music. The handsome date. The Duck Tape® dress. Even though Duck Tape® isn't really part of a most girls' prom-inspired daydreaming, such a dress could turn into a dream come true! Couples or singles who attend their prom in outfits created from Duck Tape® can win a share of $50,000 in scholarship prizes in the 17th annual Duck Tape Stuck at Prom® contest.
It might seem an unconventional way to get a jump on those tuition bills, but teens with creative flair can win up to $10,000! Don't think entrants will be limited to a little black dress! Duck Tape® is available in a rainbow of colors and patterns, so the design possibilities are endless.
Miller's Supplies at Work looks forward to the Stuck at Prom® contest each year. Sure, it helps our office supplies company sell more Duck Tape® than usual—one winning couple used 120 rolls—but we also look forward to seeing what this year's batch of designers will create. From slim-fitting mermaids, to elaborate lace and ruffled creations, it's hard to believe some of those dresses were made with nothing but Duck Tape®!
The menswear is just as impressive. From a suit of many colors to futuristic outfits that look as if they were lifted from the Jetsons, these teens blow the judges away year after year with their amazing creations. Accessories made completely from Duck Tape® such as belts, bags, shoes, corsages, and jewelry up the wow factor of the ensembles.
Those hoping to win by creating a sticky masterpiece for prom 2017 must submit their Stuck at Prom® entries by May 31st. See below for more information, and get taping!
Miller's Supplies at Work is the leading Washington office supplies company in the greater Washington D.C area. Contact us today for all of your office supplies needs. Give us a call or fill out our online contact form.
How to Enter
High school students must submit photos of themselves wearing their original Duck Tape® creations to prom to stuckatprom.com
Restrictions
Valid in the US and Canada, excluding Maryland, Vermont, Colorado and Quebec

Entry Deadline
Entry period: April 5, 2017 through May 31, 2017
Voting
A panel of judges will choose 10 finalist couples that will be announced on or around June 14, 2017
The public will then crown the winners by casting votes for their favorites online at stuckatprom.com from June 14, 2017 to July 5, 2017
Winners will be announced on or around July 12, 2017

Prizes
Grand Prize: $10,000 college scholarships for each entrant
Second Place: $5,000 college scholarships for each entrant
Third Place: $3,000 college scholarships for each entrant
The remaining students in the top 10 will each receive a $1,000 prize
Singles category: $1,000 college scholarship for entrant