Employee Satisfaction at the Speed of Light

What's the #1 office perk workers desire most? It's not a reserved parking spot, unlimited vacation days or even the ability to bring your dog to work. The primary benefit on employees' wish lists is more access to natural light and a view of the outdoors, according to Future Workplace.
Their study found that the absence of natural light and outdoor views hurts the employee experience:
47% of employees admitted to feeling tired or very tired from the absence of natural light or a window in their workspace
43% reported feeling gloomy because of the lack of natural light
These results aren't surprising when you consider that American adults spend about 4 hours on their mobile devices daily. The longer that employees report using their technology devices, the more they desire a visual break like taking a walk or looking through a window to a view of the outdoors.
Natural Light is the Best Medicine
On average, Americans spend more than 90% of their time indoors. So, it's no surprise that employees sitting closer to windows at work are more likely to show up to work. One study reports that view quality and daylight resulted in a 6.5% decrease in absenteeism for workers sitting closer to windows.
Natural light creates a better indoor experience for all workers by increasing the ability for the eye to relax and recover from fatigue. Natural light:
Enhances mood. Exposure to natural light improves mental health, employee morale – manifesting itself through a sunnier disposition, increased willingness to work, according to Northwestern University.
Supports vision health. Natural light can improve vision by reducing eye strain (51%), headaches (63%) and drowsiness (56%), reports the Ergonomics International Journal. Better vision health through natural lighting means employees won't feel the need to take a break from the screen as frequently.
Boosts productivity. A study by Sacramento Municipal Utility District found that employees who had a good view out of a window performed better and accomplished tasks faster than their counterparts with worse views.
Improves sleep. Employees who worked in an office with windows slept an average of 46 minutes more every night than those who worked in offices with no windows, according to Northwestern University research. A better night's sleep translates into a more productive workday through improved attentiveness and concentration.
Coming Out of the Dark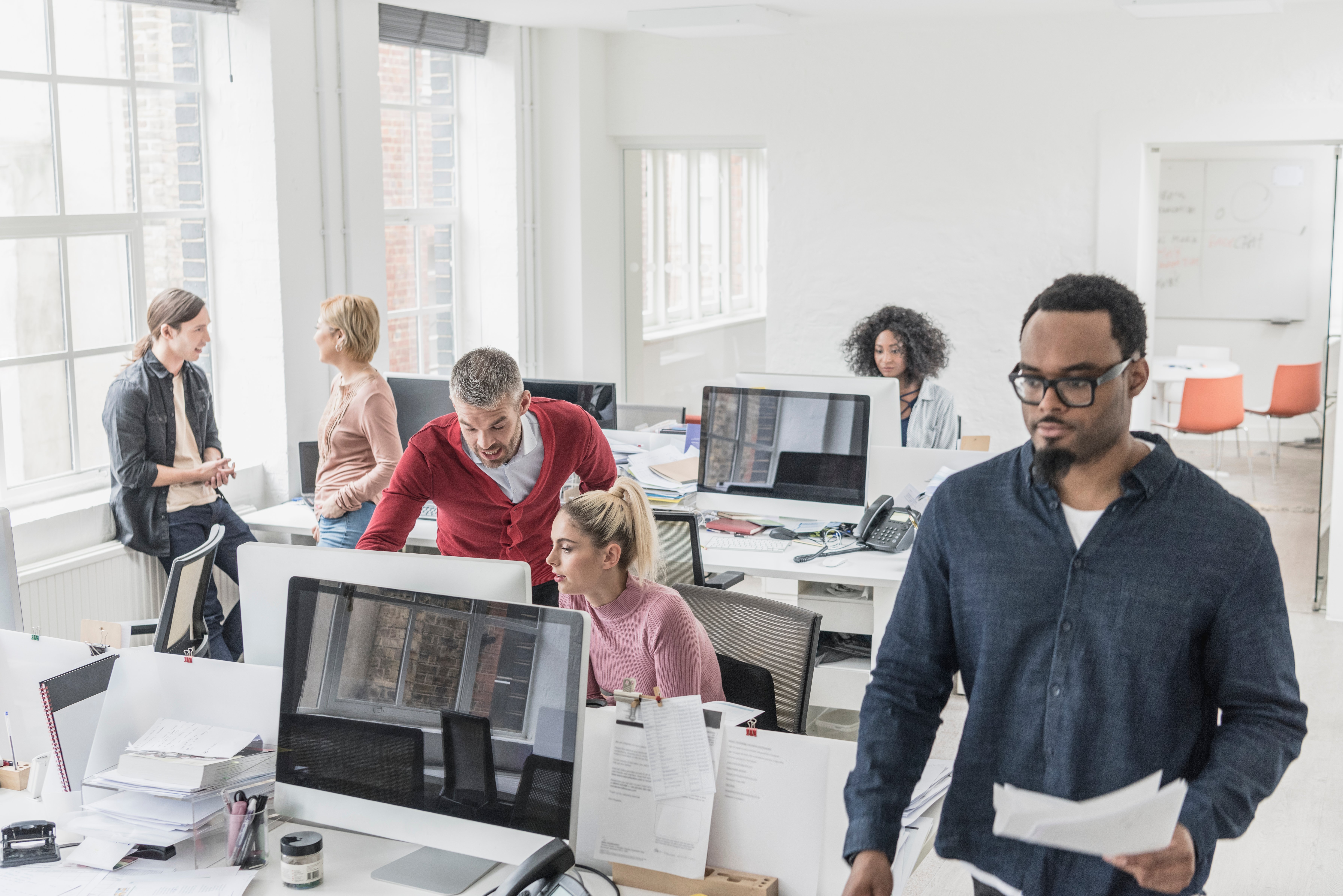 Managing natural light in the office has its challenges. Uncontrolled natural light can cause unwanted heat and excessive glare on computer screens or in workers' eyes.
The Leesman Index reports a key workplace failure is the appropriate provision of natural light. A workplace that is infused with daylight provides a view of the outdoors, which can act as a buffer against the negative impact of job stress and positively impact general wellbeing.
Northwestern University's study, "Impacts of Workplace Daylight Exposure on Sleep, Physical Activity and Quality of Life," calls the detrimental impact of working in a windowless office environment a "universal phenomenon."
Let There Be Light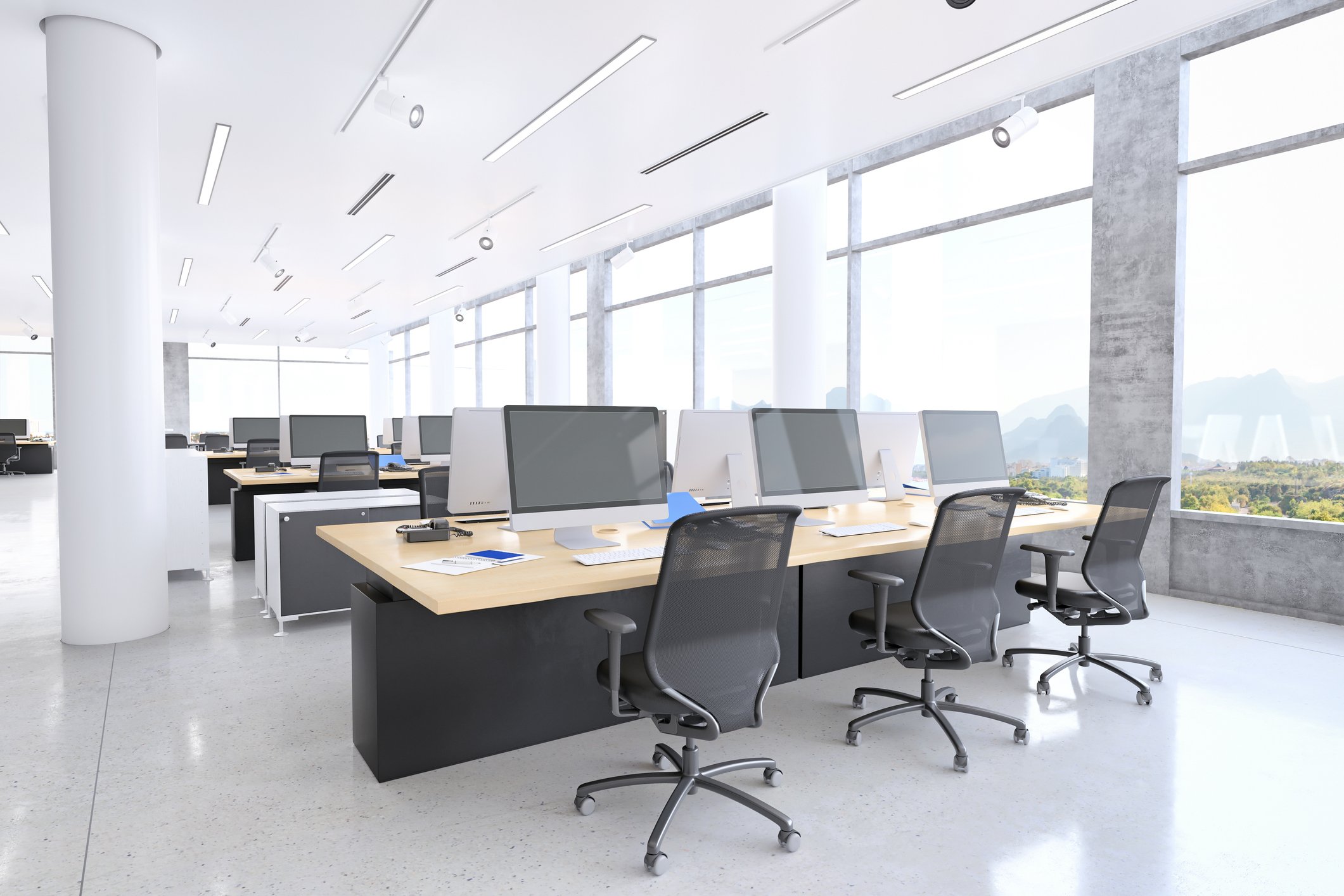 People are both a company's greatest asset and biggest expense. More employers than ever are recognizing the fundamental benefits of natural lighting in the workplace and it's causing them to reimagine their office spaces as a recruiting tool to get and retain the best talent.
Research from Human Spaces demonstrated that proximity to natural elements such as greenery and sunlight was associated with a 15% increase in improved wellbeing and creativity, as well as 6% higher productivity. And better use of natural light can also save money for a business. The Carbon Trust, experts on resource efficiency, found that up to 40% of a building's electricity use is for lighting.
Natural light has been shown to have amazing benefits outside of the workplace, too. Natural light helps patients in hospitals recover faster. An American Association for the Advancement of Science study suggests that post-operative patients with a nature view took fewer painkillers and recovered faster than patients without a view.
Tripping the Light Fantastic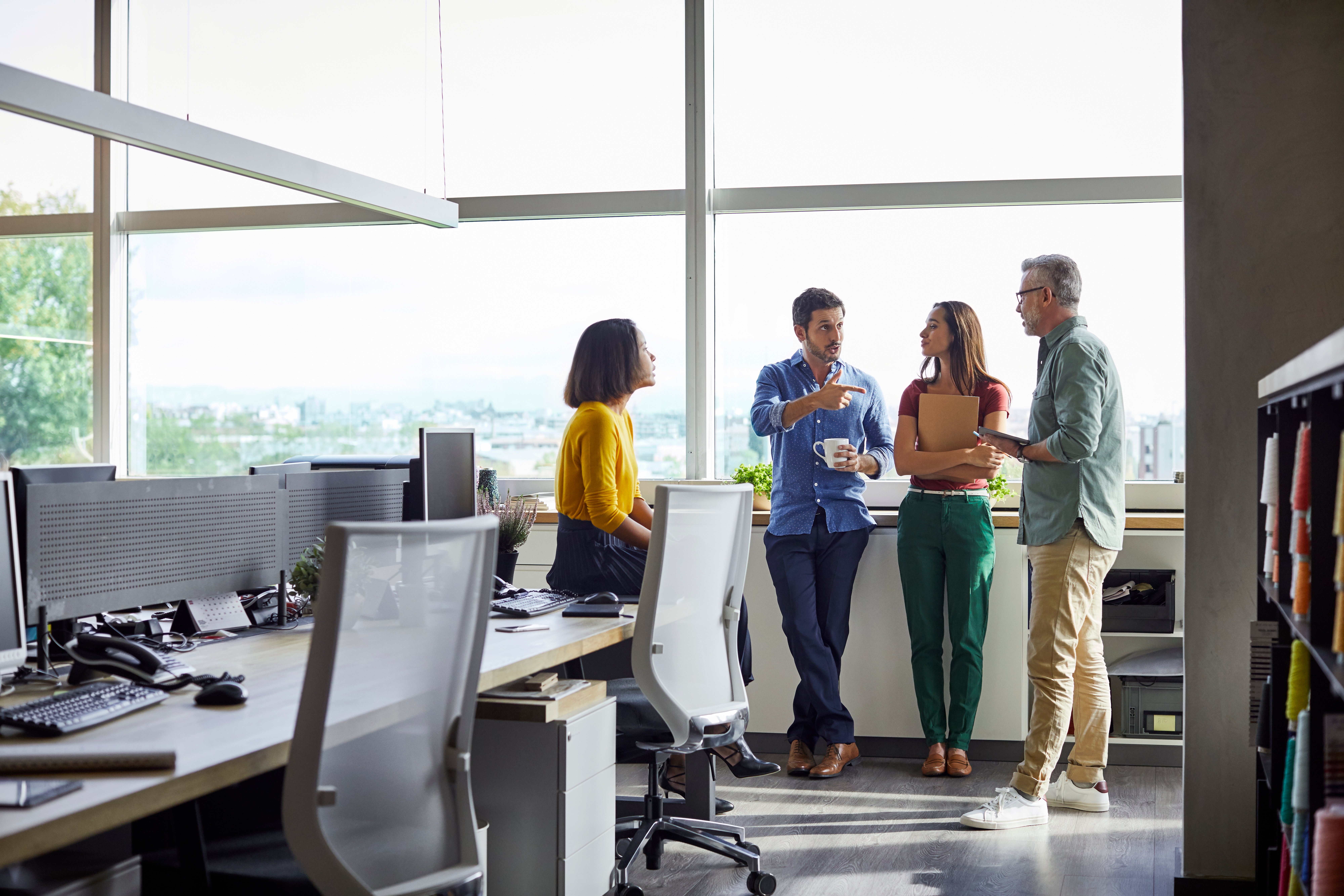 Would you like to bring more natural light into your workplace?
At Miller's we can help you get creative about retrofitting more daylight into existing workspaces. We look moving desks and shelving to maximize exposure to natural light and removing shades and blinds . Our design, space planning and project management team is ready to help you see the light. Contact us for a free initial consultation.
Sources:
Meister, Jeanne C. "The #1 Office Perk? Natural Light." Harvard Business Review, 5 Sept. 2018, hbr.org/2018/09/the-1-office-perk-natural-light.
Wurmser, Yoram. "US Time Spent with Mobile 2019." EMarketer, 30 May 2019, www.emarketer.com/content/us-time-spent-with-mobile-2019.
"Indoor Air Quality." EPA, Environmental Protection Agency, 16 July 2018, www.epa.gov/report-environment/indoor-air-quality.
Edwards, L., and P. Torcellini. "A Literature Review of the Effects of Natural Light on Building Occupants." National Renewable Energy Laboratory, U.S. Department of Energy, July 2002, www.nrel.gov/docs/fy02osti/30769.pdf.
Boubekri, Mohamed, et al. "Impact of Windows and Daylight Exposure on Overall Health and Sleep Quality of Office Workers: a Case-Control Pilot Study." Journal of Clinical Sleep Medicine, American Academy of Sleep Medicine, 15 June 2014, www.ncbi.nlm.nih.gov/pmc/articles/PMC4031400/.
Hedge, Alan. "Worker Reactions to Electrochromic and Low e Glass Office Windows." Medwin Publishers, Ergonomics International Journal, 23 July 2018, medwinpublishers.com/EOIJ/EOIJ16000166.pdf.
Hobstetter, David. "Daylighting and Productivity: A Study of the Effects of the Indoor Environment on Human Function." The Space Place, 29 Aug. 2018, thespaceplace.net/daylighting-and-productivity-a-study-of-the-effects-of-the-indoor-environment-on-human-function/.
Boubekri, Mohamed, et al. "Impact of Windows and Daylight Exposure on Overall Health and Sleep Quality of Office Workers: a Case-Control Pilot Study." Journal of Clinical Sleep Medicine, American Academy of Sleep Medicine, 15 June 2014, www.ncbi.nlm.nih.gov/pmc/articles/PMC4031400/.
"The Workplace Experience Revolution Part 2: Do New Workplaces Work." Leesman Index, Leesman Limited, Sept. 2019, https://www.leesmanindex.com/media/Leesman-EwX-P2-Second-Digital-Edition.pdf.
Cooper, Cary. "The Global Impact of Biophilic Design in the Workplace." Green Plants for Green Buildings, Human Spaces, Mar. 2015, greenplantsforgreenbuildings.org/wp-content/uploads/2015/08/Human-Spaces-Report-Biophilic-Global_Impact_Biophilic_Design.pdf.
"Lighting: Bright Ideas for Efficient Illumination." Carbon Trust, Dec. 2017, www.carbontrust.com/resources/guides/energy-efficiency/lighting/.
Ulrich, R.S. "View Through a Window May Influence Recovery from Surgery." The Center for Healthcare Design, 1984, www.healthdesign.org/sites/default/files/article-pdfs/Ulrich-1984-CHD-KPS.pdf.