It's time to organize year-end and tax documents for storage. But before you move all last year's paper-based records into storage, take a moment to refresh your organization's records retention and disposal guidelines. And if you don't have a records retention policy, now is a great time to create one.
Records Management in 4 Simple Steps
Properly maintaining paper-based records requires planning. Knowing what records to keep, and for how long, will ensure that your organization is in compliance while also saving time and money.
Establish a functional records classification system: Divide records into categories based on your business functions. This will make it easier to identify your legal requirements for retaining each record type.
Records retention scheduling: Once you know a record's category, you can establish its proper retention period based on any legal requirements. That will help you cut back on unnecessary storage and expense.
Purging non-records: Surprisingly, many organizational documents are not official records of the business, like duplicate copies, outdated drafts or obsolete reference sources. Regularly scheduled document purging is critical to reduce the costs of paper storage.
Regular records destruction: Disposal of expired records is key to reducing your records storage footprint.
Boxes vs. Drawers?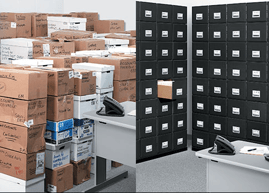 When are boxes the right solution?
Boxes are ideal when you have plenty of storage space, and only need limited access to files. The strength of the box will determine its stackability and accessibility: the stronger the box, the more it can withstand frequent file access and handling.
Download Box Selection Guide (PDF)
When are drawers the right solution?
Drawers are ideal when you have a limited amount of storage space and require frequent access to files. The stronger the drawers, the higher they can be stacked and the more space they can save.
Download Drawer Selection Guide (PDF)
Benefits of On-Site Records Storage
Storing records on-site can save money, time, and space: no wasted time retrieving files from an off-site, outsourced storage service. The chain of custody of documents stays in the control of the organization when records are kept on-site. And new space-saving storage designs allow for maximum organization wherever files are stored.
Ready, Set, Get Packin'
The main benefits of a good records management solution are higher productivity and lower costs. Ready to get started? Go to Miller's Connect to explore all of the box and drawer options and get your storage solutions delivered this week. Need help deciding which is best? Contact your Miller's Account Manager for help today.
P.S. Does your storage room need a makeover? Enter here for the chance to win a $1,000 makeover from Banker's Box.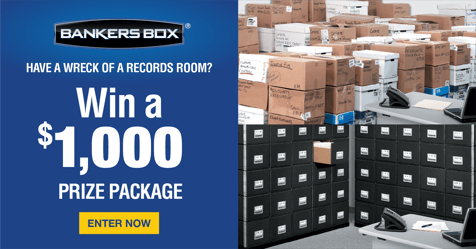 References
TAB OnRecord. (2014). Physical records: how to free up space and reduce storage costs – Part One. [online] Available at: https://recordsmanagement.tab.com/paper-file-management/how-to-reduce-storage-costs-and-make-better-use-of-floorspace-part-one/
Bankersbox.com. (2020). Records Storage - BankersBox®. [online] Available at: http://www.bankersbox.com/us/en/Products/Pages/product-category.aspx?cat=RECORDS-STORAGE