Did you know the flu affects 5-20% of the population in the United States each year? The Centers for Disease Control and Prevention (CDC) estimates that influenza has resulted up to 960,000 hospitalizations in the United States. Now is the time to take action and learn how to be an effective flu fighter and win this winter in your office.
1. Wash Your Hands, Over and Over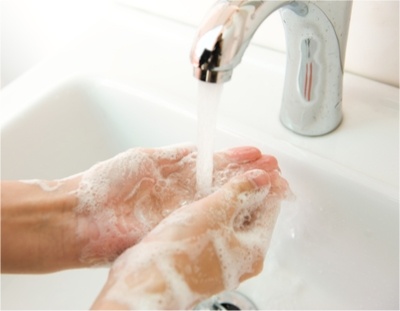 Shaking hands is normal in an office environment so it's always important to wash your hands. Always use warm water and soap when washing your hands. If soap and water are not available, use an alcohol-based hand sanitizer. Also, remember to wash your hands before eating. Keeping hand sanitizer in common places such as breakrooms, entrances or lobbies, bathrooms and conference rooms help prevent the spread of germs and illnesses.
2. Disinfect Surfaces, Until they Sparkle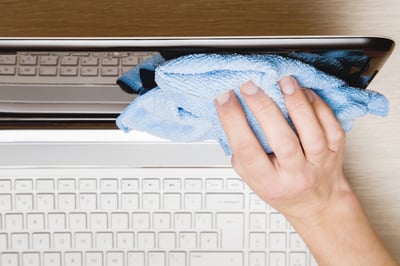 "A surface contaminated by an influenza virus may remain infectious for 24 hours," explains Jesse Couk, M.D., an infectious disease specialist. Clean and disinfect surfaces and objects that may be contaminated with germs regularly. Such as what you touch every day at your desk; your keyboard, mouse, phone, headset, laptop and more. Try not to use a coworker's work tools and equipment during this season. If you absolutely must, please consider politely asking their permission to disinfect first.

3. Avoid Touching Your Eyes, Nose and Mouth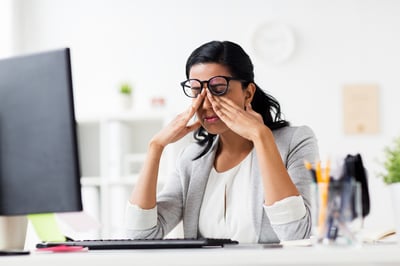 According to a study on average we touch our eyes, nose or mouth approximately 15 times per hour. Wow! The CDC recommends avoiding touching these places because germs spread easily this way. Also, prevent sharing food, utensils or anything that may touch your mouth during this season because viruses enter your body through your mouth. Please protect yourself and avoid touching your eyes, nose and mouth.

4. Avoid Getting Close to People Who Are Sick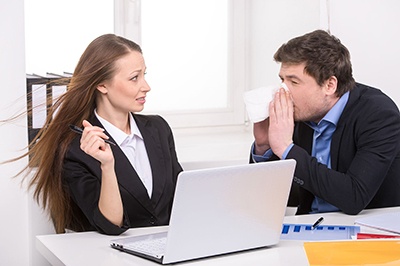 Office environments such as cubicles and conference rooms put staff in an at risk environment especially if practices to prevent spreading the flu are not existent. While avoiding getting close to sick coworkers may be tough it's worth a try. It is recommended to stay three feet away from a person who may be sick. Germs can spread through the air when someone simply breaths.
5. Cover Your Coughs and Sneezes, Every time? Yes!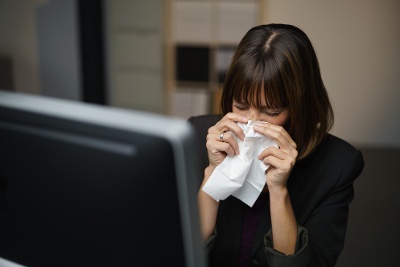 Remember to cover your coughs and sneezes entirely. Prevent sneezing towards others and use tissues. After using a tissue, throw it in the trash and then wash your hands. Another way to prevent the spread of germs is to cough or sneeze into your elbow. "One sneeze can spray up to 3,000 infectious droplets into the air at more than 100 mph." explains Dr. Kelly Arehart, Global Innovation Manager for The Healthy Workplace Project at Kimberly-Clark Professional.
6. Take Care of Your Self, Absolutely
Remember this is the best time to keep your immune system strong. Eat a balanced diet, exercise and get a good night's sleep. Also, consider taking measures to reduce stress to keep your immune system strong. Lastly, consider foods with flavonoids, which are found in blueberries and black tea, which may help to control immune response.
7. Talk to Your Team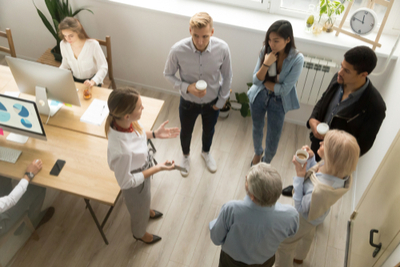 Communication is key even when preventing the flu. Please remind your team to follow these simple steps to prevent the flu this season. Offer training on how to properly take steps to prevent the flu before it spreads throughout your office.
8. Stay Home if You're Sick, Pretty Please with a Cherry on Top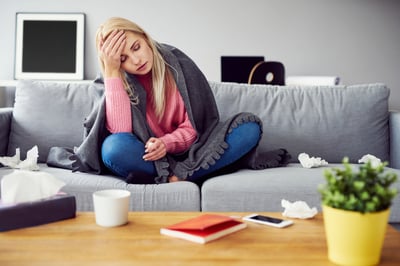 Your vacation time and paid-time off is very precious. The CDC recommends that you stay home for at least 24 hours after your fever is gone without the use of a fever-reducing medicine. It's easy to share unwanted germs before you even know you have them. Please do yourself and colleagues a favor and stay home if you are sick.
Did you find these tips helpful? Miller's Supplies at Work is always available for your workplace facility solutions including janitorial sanitation, workplace safety, green sustainable products and more.
Sources: Centers for Disease Control , Cascades PRO , WebMD , Medical News Today, Piedmont Healthcare, Forbes, OSHA