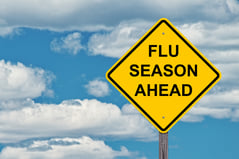 The holidays are just around the corner and the CDC has already reported an early increase in Flu activity accompanied by a significant uptick in Respiratory Syncytial Virus Infection (RSV). COVID also continues to be a stubborn presence and the Common Cold is getting even more common.
All signs show that the Cold and Flu Season, the November- February period of high spread, is back and it's time to prepare.
Avoiding Contagion at Work
With so many viruses and germs, we need to remember that they can spread on surfaces, through the air, and via people. The flu virus, for instance, is quite stubborn. It can survive on hard surfaces for up to 48 hours unless that surface is disinfected. To get the flu, you only need to touch a surface or object that has the flu virus on it and then touch your mouth, eyes, or nose.
Or like COVID, you can also get the flu from droplets created when others cough, sneeze or even talk within 6 feet of your person. Give your team a fighting chance by outfitting the office to follow the '6 Essential Practices During Cold and Flu Season.'
Rule #1: Regularly Clean and Disinfect Commonly Touched Surfaces
Viruses on door handles, light switches, handrails on stairs, and sink faucets can spread quickly in an office. Don't forget elevator buttons, copiers, and printers, Cleaning any of these hard surfaces with disinfecting wipes can reduce surface contamination in these hot spots for germs.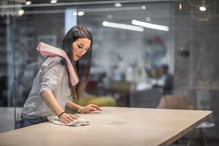 Your janitorial team should be using the right products for the right spaces. However, workplaces that provide ample supplies of disinfecting wipes throughout the facility enable your entire team to proactively help reduce the spread of viruses. According to a University of Arizona study, using a "wash, wipe, sanitize" protocol in the workplace reduced the probability of catching the flu or common cold by an amazing 80%.
Quick Tip: Remember to clean your keyboard, desktop, chair arms, and mobile phone daily during flu season with a wipe that also disinfects.
Rule #2: Wash Your Hands Often
This is your first line of defense because your hands touch your T-Zone (eyes, nose and mouth) hundreds of times each day. Touch-free soap, paper towels, and sanitizer dispensers in the restroom, breakroom, and throughout the office reduce the chance of spreading germs.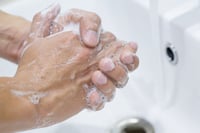 Quick Tip: Use soap with warm water to lather up for at least 20 seconds before rinsing. Always dry your hands with a fresh paper towel from a touch-free dispenser.
Rule #3: Actively Prevent the Spread of Your Germs
Always, always cover your nose and mouth when you sneeze or cough. And always use a tissue, and if you are prone to sneezing, wear a mask.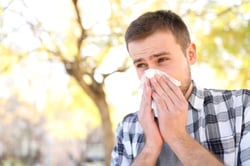 Want to provide more protection when viruses are working their way through the office? Keep a supply of masks available in your office for everyone on your team and give them the tools to protect themselves from the winter surge.
DYK: The flu virus is a bit like 'The Fast & Furious.' When you sneeze or cough, you can generate up to 3,000 infectious droplets that fly through the air at a velocity of more than 100 miles per hour.
Rule #4: Avoid Sharing Coffee Mugs and Utensils in Office Kitchens
During the flu season, it's best to use disposable products. But if you have a favorite coffee or travel mug, take responsibility for cleaning and storing it.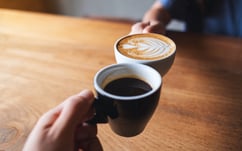 Quick Tip: Touch-free cutlery dispensers can take breakroom hygiene to the next level. We can show you how.
Rule #5: Maintain a Healthy Lifestyle
Your top priority should always be to get plenty of sleep. Being well-rested may be your body's best defense to avoid getting sick in the first place. And remember to exercise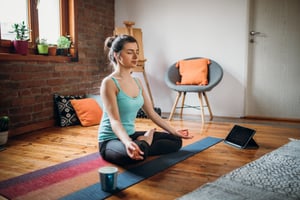 regularly, eat a balanced diet, and stay hydrated during the dry winter months.
Quick Tip: Boost your immunity by adding cinnamon to your favorite espresso or latte. Cinnamon helps inhibit inflammatory substances. And don't forget about Vitamin C. While it may not keep you from getting sick, Vitamin C has been proven to reduce the severity and duration of an illness.
Rule #6: If You Get Sick, Stay Home
Remember we may infect others days BEFORE getting symptoms and up to one week AFTER getting sick. Children can be infectious even longer, up to several weeks.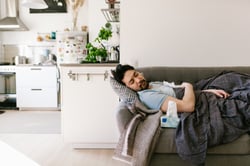 If you have flu-like symptoms, the CDC recommends you stay home for at least 24 hours after your fever is gone. If you test positive for COVID follow your office protocols before coming back to work.
Quick Tip: Have COVID test kits handy for your team to make it easy and fast to know if anyone has been exposed to COVID.
Miller's offers disinfecting wipes, masks, COVID tests, touch-free solutions, and a complete line of office cleaning tools and products to help keep your office sanitized, and protected this flu season.
Want help prepping your office for the flu season? The team at Miller's can conduct a quick facility assessment to ensure you have the right products and tools in the right places to sanitize, disinfect, and avoid the spread of infection. We'll customize a program to your needs and workplace, recommending the right products to ensure a healthy workspace.